Feature Variables¶
Apptimize feature variables are dynamic variables that define the behavior of a feature in your app. You can use variants of feature variables to target different groups of users.
Feature variables offer more personalized app experiences for your users by targeting specific user groups without the need to create multiple feature flags. They also empower continuous improvement and personalization: when you update your code variables there is no need for an App store release.
To set up a feature's dynamic variables and then distribute feature variable variants among segments of target user groups, you are going to use the Apptimize dashboard.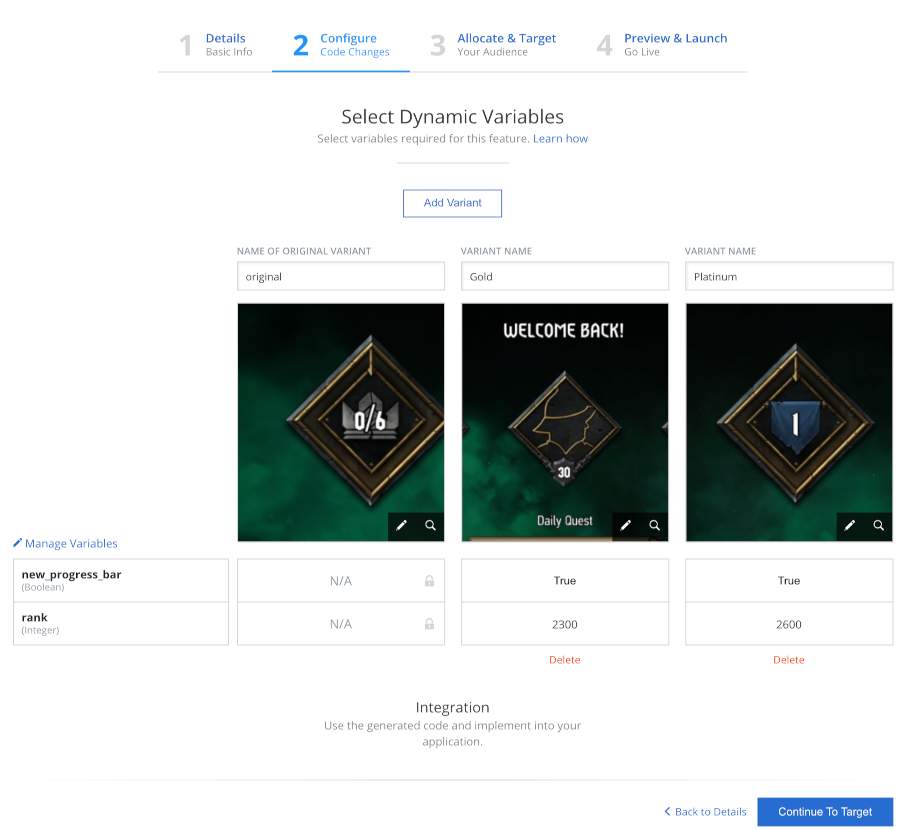 Note
Feature Variables can be created from the Winning Segments in your A/B Experiments.
Supported data types and platforms¶
Multiple data types are available for feature variables: string, integer, double, float, boolean, array, and dictionary. You select the type depending on the data type of the related variable in your code.
Note
Arrays and dictionaries may contain values of all supported data types.
Support across multiple platforms
Feature variables that you configure in the Apptimize dashboard are platform agnostic: a single feature variable can consistently define an experience across multiple platforms.
Setting up feature variables in Apptimize¶
You set up feature variables on the Feature Setup page accessible from the Apptimize dashboard: click Create, and in the Create a New Project dialog, select Feature Variables from the available project types.
To make it easier for you, the whole procedure is broken down into distinct steps: