While there are a bunch of novel options for the new Apple Watch, HotelTonight is one company that's in the lead pack. Not only have they produced an awesome app to launch on day one, they've already discovered and pre-emptively solved some unexpected post-release problems in silky smooth fashion.
The App

HotelTonight is an mobile-only hotel booking service that's been shaking up the travel industry. The company allows users to easily make short-notice hotel bookings, enabling people to "take advantage of the serendipity of life." Users search for hotels available within a certain radius, and make a booking with minimal effort.
Staying ahead of the curve has always been one of HotelTonight's strong points. To further their goal of making it painless to book a room, the company wanted to make sure they were there on the Apple Watch from day one.
The power is in the convenience. Now, HotelTonight users can effortlessly search through and complete a booking, get directions, and find out the check-in and check-out times all without having to take their phones out of their pockets.
HotelTonight's Apple Watch App
The Problem
HotelTonight makes enabling Apple Watch booking simple, allowing users to turn on functionality via their iPhone app. Users navigate to the Apple Watch page, read the terms, then tap to authorize.
While they launched at an ideal time to coincide with Apple's release, the team quickly found out a potential issue that could cause confusion and frustration for customers: they hadn't specified that customers would be unable to apply credits or promotional codes.
No customers had yet complained about the issue, but HotelTonight's customer dedication pushed the team to preempt potentially confusing customer experiences. With the App Store submission process being lengthy and unpredictable, the team needed to resolve it with a quick and effective solution.
The Fix
Using Apptimize's Instant Update feature, HotelTonight was able to immediately remedy the problem by adding the additional text to their terms page. Using the Visual Apptimizer, the product team simply entered in the appropriate text, then pushed it out immediately to production, without having to deal with the headaches of another app submission. Within 15 minutes, the change was pushed out to all users.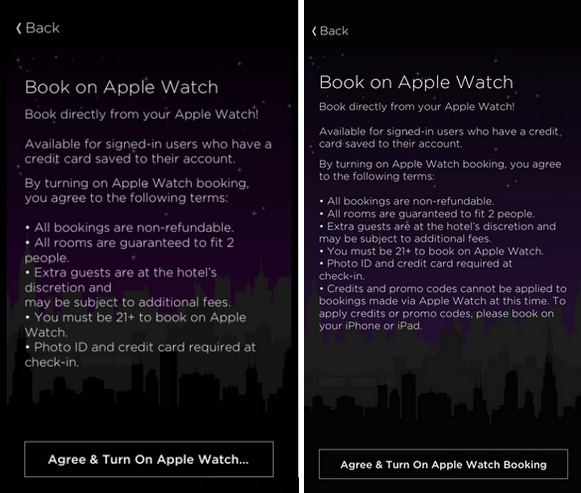 Using Apptimize allowed HotelTonight to instantly solve an issue before it became a problem that could cause customer annoyance, and saved a lot of time and resources that would have been spent dealing with it. Instant Updates allowed HotelTonight to push out a change and keep focusing on developing amazing hotel experiences for everyone.
Find out how Apptimize's Instant Update feature can help your app today!