HotelTonight is the leading mobile-only solution for last minute hotel bookings, with over 20 million app downloads across 1,700 markets in 36 countries.
THE CHALLENGE
Even though HotelTonight is far ahead of its competition in the steps and time needed to book a hotel room, they wanted to streamline their checkout flow further to increase conversions.

THE HYPOTHESIS
Eliminating the mandatory account creation screen during checkout will increase bookings by reducing friction.
THE TEST
HotelTonight used Apptimize Dynamic Variables to test the elimination of the account creation screen from the checkout flow. The control had the usual mandatory account creation screen during checkout. The variant asked users for their name and email on the Order Summary screen. HotelTonight also removed the password creation field and replaced it with a reset link.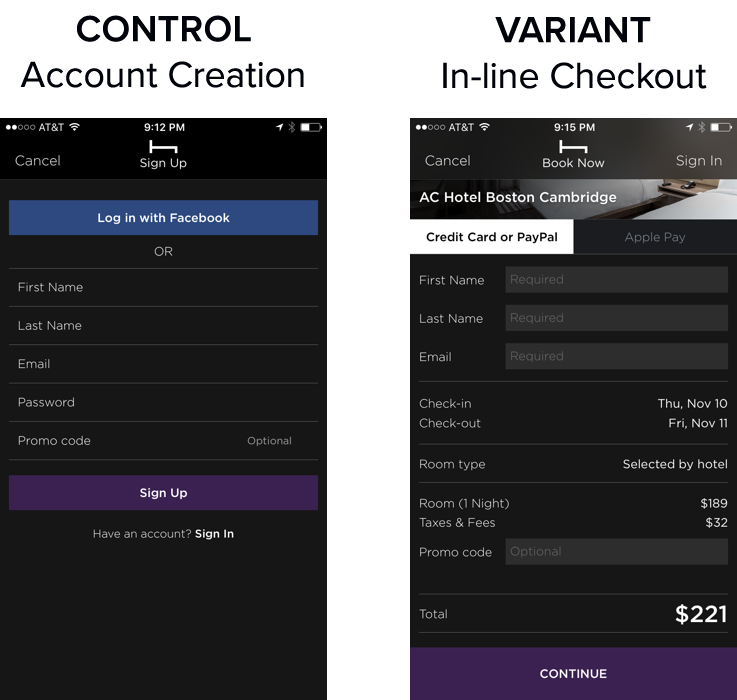 THE RESULT
Removing the mandatory account creation screen and collecting the required fields (First Name, Last Name, and Email) in-line on the order summary screen increased conversions by 15%.
THE TAKEAWAY
Simplify and eliminate clicks and steps in the user's purchase process. Test each change to confirm they align with your business objectives.
Remove superfluous copy and functionality that isn't ultimately contributing or useful to the company's goals.
Instead of only focusing on what you can add, you should also focus on testing what you can remove. Sometimes the best way to convert is to just eliminate.

–  Amanda Richardson, VP Product, HotelTonight
Check out Amanda's talk from Mobilize 2016 to learn more how HotelTonight uses continuous experimentation to drive compound growth for their Android and iOS apps.